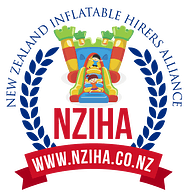 The NZIHA helped my business
Who are the New Zealand Inflatable Hirers Alliance?
The NZIHA was launched in early 2017 due to an absence of any managed organization. It was felt that an organization need to be established to actively set guidelines for inflatable hire companies as well as making education and training material available to its members, including ongoing help, advice and support.
Up until the point of the NZIHA being established, there was uncertainty by some inflatable hire companies of what was required to run a legal and professional hire service.
Recently the industry has changed significantly, and there are standards available for all companies involved in inflatable hire to read and implement.
We represent our members across New Zealand by helping them to fulfil their professional roles and obligations. All our members have agreed to work to our code of ethics to offer customers of the inflatable hire a trustworthy and professional service.
Joining the NZIHA is like having an inflatable business advisor by your side every step of the way. We will provide you with help, advice, support and direction when you need it.
We help New Zealand bouncy castle hire businesses to achieve the best and succeed in all aspects through regular training, tips and ideas. We send out weekly newsletters, update the website consistently, provide networking opportunities, discounts on various services vital to your business, help you get more customers and much more.
The NZIHA provides the infrastructure that supports the sharing of good ideas, safe working practices, expertise and overall professionalism.
The NZIHA provides you with the tools, information and recourses that you will need to achieve your business dreams and will assist you in preventing mistakes and guide you along the way.
Through our brand awareness, we aim to promote to the public about the benefits of choosing a professional NZIHA member's hire company.
As a member of the NZIHA you have access to industry related training for you and your employees to enhance your business through safety awareness, event management, and more, all avaliable at highly discounted rates, as well as hire agreements, terms and conditions and health and safety manuals.
Membership of the NZIHA promotes to your customers and the wider public that you are a real business, and are commited to high standards of safety and customer service. With your membership you recieve a membership certificate, ID card and vehicle stickers.
HIGH END TRAINING COURSES
YOU CAN JOIN ONLINE TO BECOME A MEMBER OF THE NEW ZEALAND INFLATABLE HIRERS ALLIANCE
FIND A MEMBER NEAR YOU FOR YOUR NEXT EVENT
Members of the NZIHA allows you unlimited free business support covering a wide range of topics.

We can help with anything from business operations, training, testing, design and direct support. We can revitalize your business and help you grow in the directions that you need.
SUBSCRIBE TO OUR WEEKLY NEWSLETTER FOR FREE UPDATES AND THE LATEST NEWS
The New Zealand Inflatable Hirers Alliance is New Zealands only Inflatable Industry Alliance providing trusted News, Information and resources across our networks and members.
Subscribe to our newsletter for Weekly and Monthly updates from us on topics that will benefit both you and your business