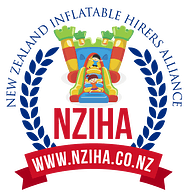 The NZIHA helped my business
Access to a lively member only NZIHA Facebook discussion group.
License to use the NZIHA logo on your website, business cards, flyers, vans, uniforms and other marketing materials
A listing on our national online bouncy castle directory and a valuable backlink (this helps to improve your Google rankings).
Discounts on insurance on your insurance of up to 30%
A heavily discounted professional website for your business
Low-cost SEO service to get your website to the top of Google for your local area.
Access to essential documents and templates, e.g. risk assessments, disclaimers, terms and conditions of hire
A heavily discounted professional website for your business
Free business consulations and Access to various experts in the industry.
YOU CAN JOIN ONLINE TO BECOME A MEMBER OF THE NEW ZEALAND INFLATABLE HIRERS ALLIANCE
YOU CAN JOIN ONLINE TO BECOME A MEMBER OF THE NEW ZEALAND INFLATABLE HIRERS ALLIANCE
MEMBERSHIP FEE:
1 YEARS MEMBERSHIP - $89
Annual discounts are avaliable for joining for two to five years
The New Zealand Inflatable Hirers Alliance is an Alliance that has the goal of creating a network of the inflatable hirers in New Zealand so that we can create benefits for everyone - from sharing information, highlighting specific challenges that we face, access to a range of recourses and insurance packages.
We work closely with multiple agencies and organisations around New Zealand and World Wide to offer the best service, competitive quotes and provide our services to create a better hirer
MEMBERSHIP FEES - VALID APRIL 2021 TO MARCH 2022
Our membership fee for joining the NZIHA has been created so that it is affordable for all businesses. This allows our content and service to be used by all, from starting out to well established, without a restriction of affordability.
To join the New Zealand Inflatable Hirers Alliance, complete the application form below and our Membership Manager will be in touch to complete your registration within 24 hours.
Access to a Free marketplace dedicated to the inflatable and event hire industry, where you can buy and sell from one location.
Connect with the industry with NZIHA Online Member Directory. Find colleagues, buyers and sellers through our database.
Members can apply for a scholarship to train employees under the age of 18 as part of our commitment to develop the next generation of inflatable and event experts
Updates from around the world relating to the industry, interviews with experts and NZIHA specific information.
Elevate professional standards with Free and Discounted training courses relating to everything in the industry
A database updated weekly with tips and tricks for within the industry including business management, profit, safety and general advice
Along with our core benefits above, you will also have access to:
One of the most significant benefits of joining the NZIHA is the sense of belonging to an organization of professional inflatable hire businesses.