Wellington
Auckland
Northland
Canterbury
Hawkes Bay
Taranaki
North Island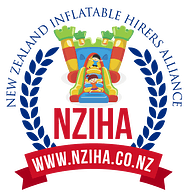 Inflatable event planning
Are you thinking of hiring an inflatable for your upcoming event?
You don't need to remind us that your event attendees and children are the essential things that you have, and there is no point in taking unnecessary risks with their safety. That alone is one of the biggest reasons as to why you need to find a responsible hirer who will rent you quality made and clean inflatable equipment that conform to safety standards and who promote best practice guidelines at all times.
The NZIHA provides a list of responsible hirers in New Zealand whose membership means that they are at the very least carry full public liability insurance and follow our code of ethics and best practice guidelines.
YOU CAN JOIN ONLINE TO BECOME A MEMBER OF THE NEW ZEALAND INFLATABLE HIRERS ALLIANCE