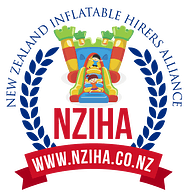 The NZIHA helped my business
To join the New Zealand Inflatable Hirers Alliance, complete the application form below and our Membership Manager will be in touch to complete your registration within 24 hours.
Not only do we provide a wide range of recourses, education and services to our members - we also offer many services, training and recourses for the public to assist them with hosting a safe inflatable event for free.
Browse through our many sections, and you may find something useful.
YOU CAN JOIN ONLINE TO BECOME A MEMBER OF THE NEW ZEALAND INFLATABLE HIRERS ALLIANCE