Do I need insurance if I am hiring an inflatable from a company?
If the inflatable is being used on your property, then it is entirely up to you if you want to obtain insurance for the duration of the hire. It is a good idea to ensure that the company you are hiring from has at a minimum $1,000,000 public liability insurance for the equipment you are hiring. If the hire is for a venue that you do not own, then we strongly advise that you investigate and arrange cover for the duration of the hire. It is worthwhile remembering that while the company you are hiring from has insurance if there is an accident, it will most likely become an investigation from the governing bodies as to how and why the accident happened, and if the company is found to be not negligent then you will need to be covered with insurance.
---
What if I get bad weather on the day of the hire?
Companies policies vary, a good practice is for the hiring company to maintain contact with you from the moment you book until the hire has finished and they should allow you the option to cancel if the weather is terrible. Remember to check their policy when making your booking.
---
What do I need to do before hiring?
Make sure that the company has unobstructed access to the area. Clean up any rocks, animal waste and any other debris around the site. Make sure there is an accessible plug within 20 - 30m of the site. The site should be flat, preferably grassed and clear of obstacle and power lines.
---
What is too windy for inflatables?
Inflatables should not be used when the wind or gusts are more than the maximum wind safety speed specified by the manufacturer. The industry recommended a maximum wind speed of 36 kph. This usually entails small trees swaying, and umbrellas are heald with difficulty. Weather forecasts can be obtained from the meteorological office and contacting the company you are hiring from.
---
I have had a bad experience with one of your members or I have viewed an unsafe setup, what can I do?
This is never ok to hear. If you have had a bad experience with one of our members we advise you to contact them directly and resolve the situation with them, however, if this does not come to a reasonable outcome for both parties then you can forward your complaint and any evidence to us, and we can liaise with the member for you.
If you view an unsafe setup, we advise that you report it to the governing bodies immediately and advice the NZIHA so that action can be taken such as further education and training. The governing bodies will take up their activities as they see fit.
---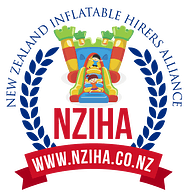 Inflatable event planning
To join the New Zealand Inflatable Hirers Alliance, complete the application form below and our Membership Manager will be in touch to complete your registration within 24 hours.
YOU CAN JOIN ONLINE TO BECOME A MEMBER OF THE NEW ZEALAND INFLATABLE HIRERS ALLIANCE